Water pond liner is the kind of HDPE geomembrane, which is often included as part of the engineered barrier system for modern reservoirs. As defined, water pond liner is an essentially impermeable membrane and geotechnical engineering materials which is widely used for water containment applications. HDPE geomembrane is made of finest quality high density polyethylene (HDPE) with specially formulated, virgin polyethylene resin, combined with specified quantity carbon black, antioxidant, anti-aging agent and UV resistance components, BPM water pond liner is fabricated by the state of the art automatic geomembrane production lines and advanced three layered pressing technology in accordance with GRI GM13 standard. Water pond liner provides an impermeable barrier for water retention superior to concrete or asphaltic lining in both cost and lower permeability, so it is widely used as reservoir storage liner in many a man-made project, structure or system.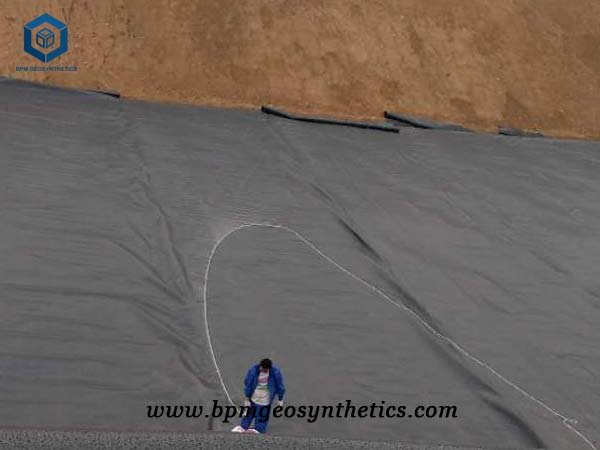 Our customer form South Africa had a reservoir project which required water pond liner. Water containment facilities like storage reservoirs, artificial lake and canals need reliable and durable protection from leakage because seepage is the main factors causing water loss. After making an on-the-spot investigation for HDPE geomembrane manufacturers, South Africa customers selected BPM as a water pond liner supplier. The manager, followed by the colleagues of the South Africa reservoir project, visited the BPM factory to discuss and negotiate cooperation. The customer was satisfied with BPM HDPE geomembrane production process, raw materials and product quality. In addition, we recommend ASTM standard and GB standard HDPE geomembrane liner and we quoted with very competitive price. Finally, they signed the supply contract and construction service agreement.
Specifications of Water Pond Liner for Reservoir Project in South Africa
Total quantity – 50,000m2
Each roll size is 7m*100m
Thickness – 1.0mm
Two 40HQ container
About BPM
BPM had been specializing in delivering one stop geosynthetics products and solutions to worldwide customers since its foundation in 2007.  BPM had provided many types of effective and state of the art  geomembrane, geotextile, geocell, geosynthetic clay liners (GCLs), drainage board, geogrid to over 36 countries. 
BPM is not only manufacturing best quality geosynthetics products but also providing professional design and installation service. OEM, and ODM are also available. If you have any questions or inquiries,  please fill and submit the following form, we will reply as soon as possible.