RPE pond liner, also called HDPE Liner, is defined as an impermeability synthetic or reinforced bituminous sheet for oil tank application. The RPE pond liner is used extensively in tank lining and transportation applications (tunnels), environmental applications (landfills, sand reservoirs) and geotechnical related applications (dams) in substitution or in addition to compacted clay, bentonite, concrete, steel and bituminous materials. BPM high density polyethylene liner is made of finest quality high density polyethylene (HDPE) with specially formulated, virgin polyethylene resin, combined with specified quantity carbon black, antioxidant, anti-aging agent and UV resistance components. Welding or adhesive techniques are used to bond the high density polyethylene liner with the inside wall of water tank together. RPE pond liner fabric liner has proven to be far more cost effective, environmentally safe, excellent durable, chemically resistant, fast deployment and easy transportation.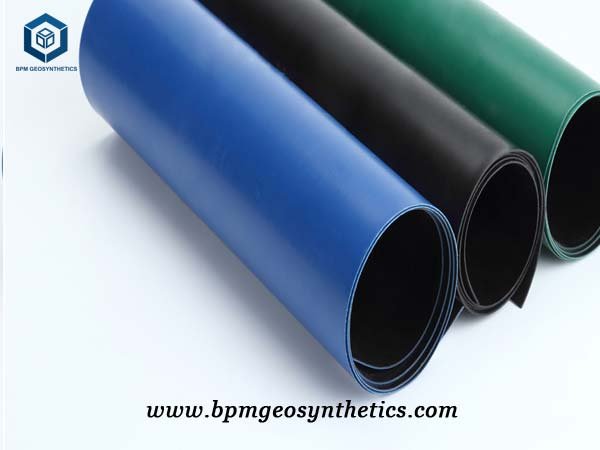 BPM RPE pond liner can make the water park a wonderful place with good waterproofing features. Our RPE pond liner is made by 100% virgin raw material, which is food grade and without any harm. People can enjoy swimming and playing in the blue water park without worry. After we got the requirements from our customer and then we sent our RPE pood liner advantages and laying process with no any hesitation. More importantly, we have given our customers a detailed introduction on how to use and how to install the HDPE liner. Our customer is very satisfied with BPM HDPE liner and the water park attracts many tourists everyday.
Specifications of RPE Pond Liner for Swimming pool project
Thickness – 1.0mm
Each roll size – 5.8m*100m
Total quantity – 20,300m2
One 20GP container
About BPM
BPM had been specializing in delivering one stop geosynthetics products and solutions to worldwide customers since its foundation in 2007.  BPM had provided many types of effective and state of the art  geomembrane, geotextile, geocell, geosynthetic clay liners (GCLs), drainage board, geogrid to over 36 countries. 
BPM is not only manufacturing best quality geosynthetics products but also providing professional design and installation service. OEM, and ODM are also available. If you have any questions or inquiries,  please fill and submit the following form, we will reply as soon as possible.